By: Sofia Kathryn Coon
If you're like me or like the thousands of recent college grads (2011 represent!), Pinterest is just about pinning items that you like for all your friends to see and a great distraction instead of doing homework. How can  a platform like this help up get ahead in the "real world?" Pinterest can be used as a branding tool and can help employers see your personality in a whole different way! 
Here are some tips to utilize Pinterest in the most beneficial way possible and how creative you can get with the platform: 
1.  Spend the time
Like any other social media site, Pinterest requires time and effort. Once you find your niche within the site, it will become much easier to work with. If you take the time to find quality "pins", the relationships built will be much stronger and more credible. It is  more likely that someone else will "pin" your products and a group following will then be created. 
2.  Keep it simple
The appeal of Pinterest is that it is very user friendly (I'm pretty sure I could even teach my dad how to use it!) You want to create boards that are clean and elegant looking. Make sure each post has a link back to the source.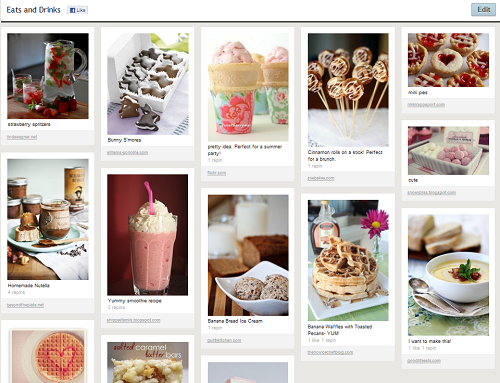 3.  Connect your physical presence with your online presence
Whether it is your own brand or a business, make sure there is a connection between the physical you and the online you. Giving Pinterest users the option to go to another site will usually result in high traffic results and an opportunity for new relationships or even a sale occurring. 
4.  Be selective
Make sure what you are posting is really what you want to be posting. Choose unique items to "pin" beyond the products you sell or your brand. Use key phrases on your boards that help define your product or brand. 
A creative idea that has been popping up all over Pinterest is to utilize the platform as a resume: 
1. Create a board with your name and the word resume somewhere in the title.
2. Pinterest is limitless so you don't necessarily have to limit yourself to a "page." Put the essential pieces up first, then add some personality to it.
3. You can create full-size slides from Keynote/Powerpoint and export them as images. Because Pinterest is mostly visual you may need to think on a bigger scale with bolder words and eye catching colors. Any text that is formatted like a URL is turned into a URL, so make sure any links you feature in the slide are placed below the image (they are clickable).
4. Create a playable video on YouTube. It is a great way to introduce yourself and plays to the spirit of Pinterest.
5. Add recommendations from LinkedIn or keywords you see being used to describe you. These can be placed in a slide as well so it becomes more aesthetically pleasing.
6. QR Codes can be a fast and easy way to let other individuals know who you are. Use the RACO Industries QR Code Generator . It's very reliable.
7. Make sure you are using a professional headshot. Employers don't want to see you out on the weekend with friends or with the family dog, they want to see you. A good headshot is a photo where the individual is facing straight forward in professional attire.
8. If you have anything published or any writing pieces you would like to display, this would be the place to do it. Having these pieces up for people to see could be very important or beneficial in the long run.
9.  Create a board that discusses education and experience and post photos of each place (logo or anything else professional) with an explanation like you would place on a hard-copy resume including dates, major bullet points of day to day skills experienced, etc. 
10. Make sure your top row of boards is the most important items you would want employers to see. This might include photo, contact information, education and experience.
I plan on attempting to put together a Pinterest resume soon. I hope these tips help you to find a new way to use a popular platform. Let Likeable know if it helps in your job hunt!
What would you add to you Pinterest resume? What are your tips? Share your thoughts in the comments below!
11 months ago